High-tech UVC devices that work for you!
Use of UVC radiation for the sterilization of hotels.

The primary goal in the hotel industry is to provide hospitable, comfortable and safe accommodation and catering to its customers. In this age of viruses, the challenge for hotels is to minimize the risk of influenza virus infections and to ensure smooth operation, which will reward them with more bookings and better prices, thus ensuring the profitability of the business.
According to studies, recommendations and announcements of the Centers for Disease Control and Prevention (CDC) American Center for Disease Control and Prognosis, UVC radiation neutralizes influenza viruses.
The use of high-tech UVC radiation and ultraviolet light to sterilize and combat germs and viruses in the rooms and other business areas, gives your enterprise a competitive advantage of safety and protection, not only for your employees and customers, but also for your tour operators and agents, safeguarding the reputation of your business as it enhances the sense of safety and protection of customers and staff.
With UVC technology, any surface that is reached and touched by the light is sterilized in a minimum of time and germs and viruses, including the influenza virus are eliminated on the spot.
The next guest to check in at the hotel can move around comfortably and pleasantly, being confident that opening a door, touching a piece of furniture, turning on the TV, or using a room service phone will not expose them to influenza viruses and other harmful germs.
Enhancing safety and protection using UVC technology benefits you!

Maybe you are under the impression that the transition to UV sterilization technology in your business may cost more than what you are currently spending.
Quite the contrary, though. Businesses in the hospitality industry spend huge amounts purchasing antiseptic hygiene products and hiring staff for sterilization in conventional ways. On the one hand, the use of UVC technology is very affordable and has low operating costs, and does not require additional man-hours or employees.
On the other hand, it leads to securing higher room rates.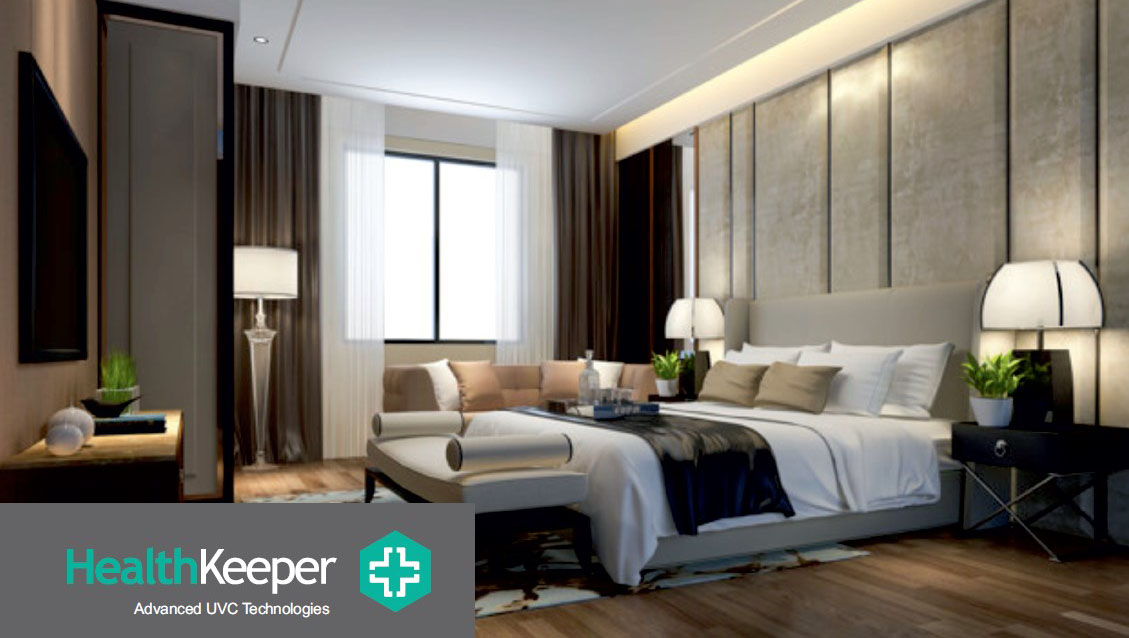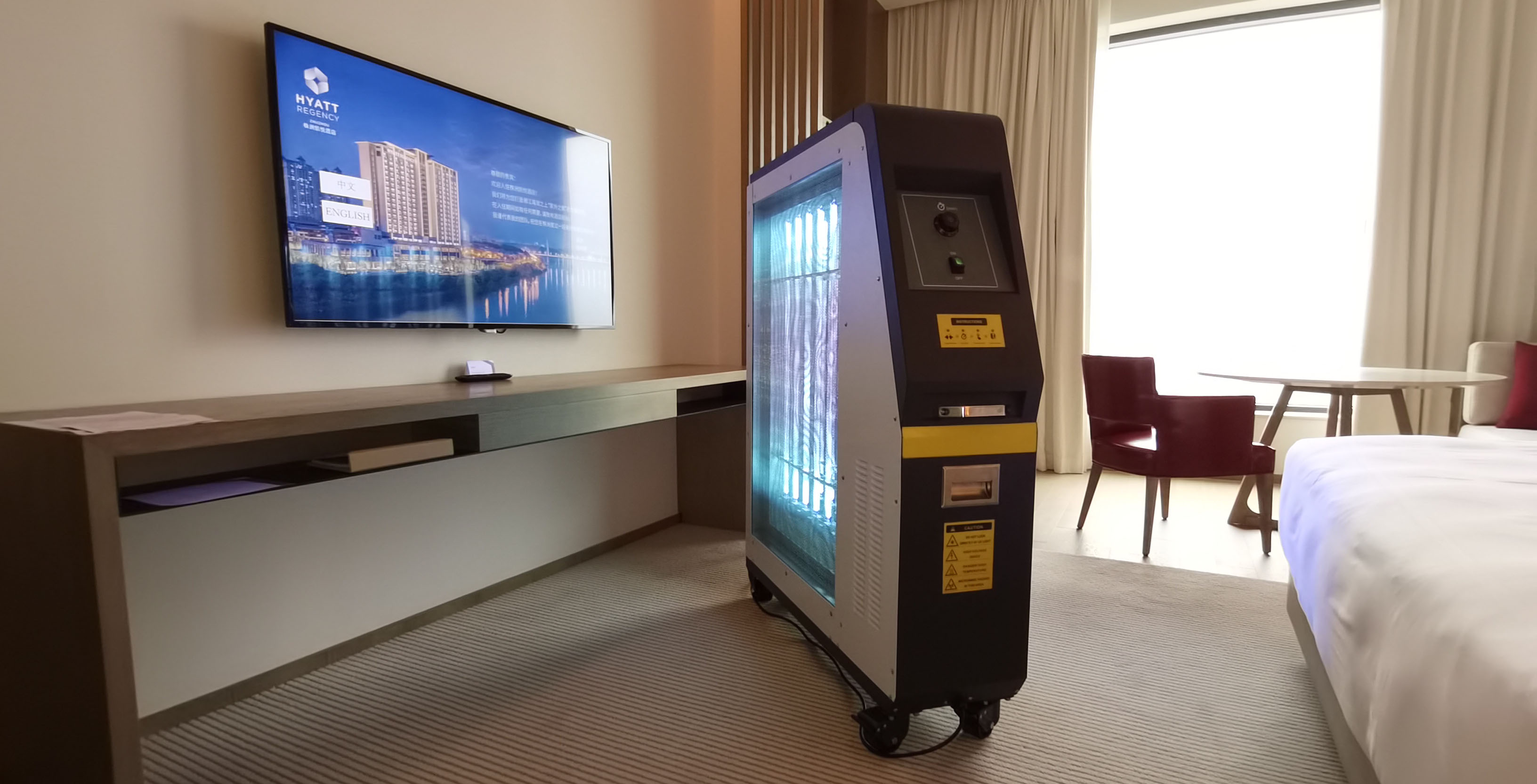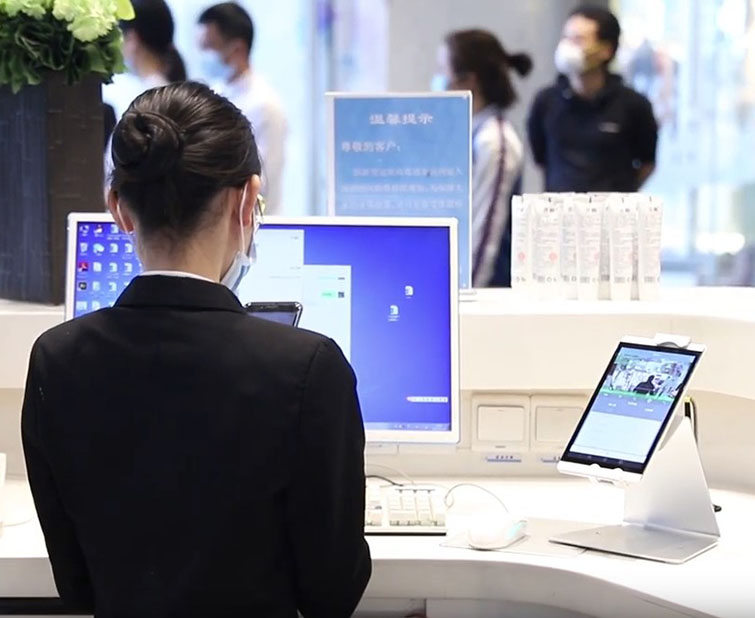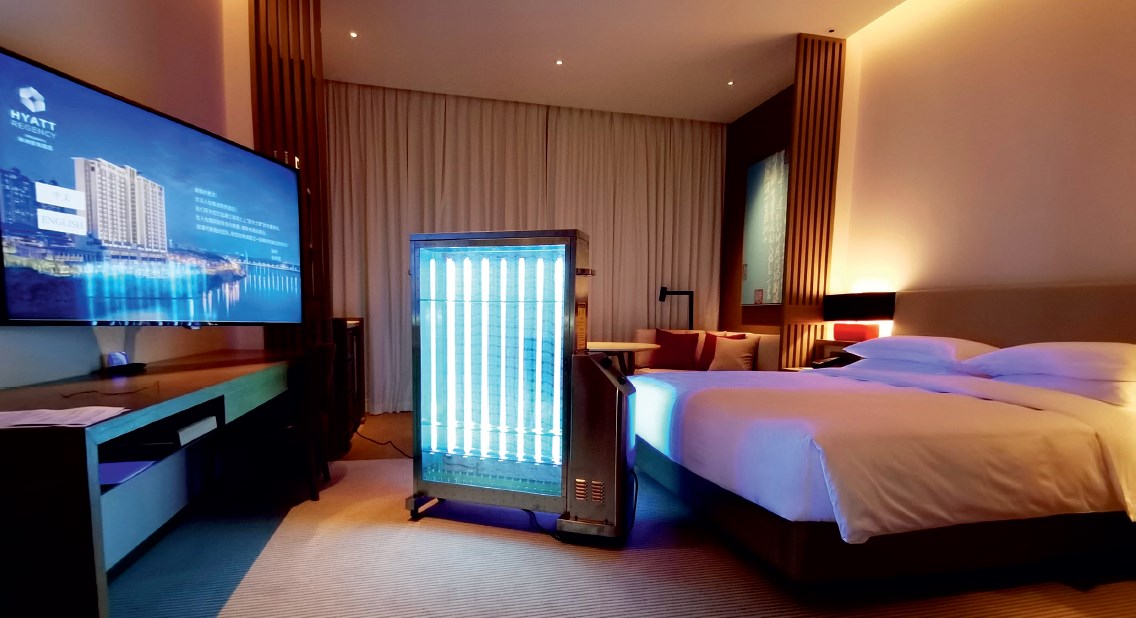 HealthKeeper's proposal for hotels.
The radiation emitted by Healthkeeper equipment Ultraviolet C with a wavelength of 253 to 275 nm, type UVGI (Ultraviolet Germicidal Irradiation) – is a well-known and documented method for sterilization from all known microorganisms, such as viruses, bacteria, fungi, and mite eggs.
Until recently, widely used in surgeries and patient rooms, the technology is from now on also available for hotels, schools, and numerous other sterilization applications.
HealthKeeper's integrated solution to address the threat of influenza viruses in hotels begins with:
Autonomous 24-hour Discreet Body Temperature Measuring and Reporting Camera, which is placed at the entrance of the hotel lobby or restaurant in order to check and report any suspected cases of influenza virus in the company, and ends with the use of high-tech sterilization equipment with
Powerful 1000 W UVC lamps and 24 UVC LED for the neutralization of bacteria, viruses and microorganisms in all the facilities of the hotel (surfaces and air conditioning/ventilation).
Ensuring higher room rates:
Research studies as well as applied programs in hotels such as Best Western and MGM Grand have shown that the implementation of additional sterilization protocols in hotel rooms can lead to:
increased customer satisfaction,
high occupancy rates,
and/or higher room prices
List of successful applications:
A long list of institutions, including Hospitals, Universities, Schools, Beauty Salons, Gyms, Spas, Government Buildings, Hotels and Restaurants, as well as Aircraft and Public Transport Vehicles, already use these methods for temperature measurement and reporting and for surface and air sterilization (ventilation/air conditioning).
Major hotel chains all over the world are already using UVC technology for their sterilization protocols.
Hotels that use UVC technology for surface and air sterilization:
BEST WESTERN Hotels (USA)
MGM Grand (USA)
Marriot Westin (Houston, Texas, USA)
Zhuzhou Marriott hotel (CN)
HYATT Regency Zhuzhou (CN)
Institutions that use thermal cameras:
anks & institutions, e.g. GP Morgan
Hotels
Airports
Super Markets & Department Stores, e.g. Amazon
Gyms
Clubs and Restaurants
Factories
Schools – Educational institutions
Effective germicidal UVC technology for surfaces
A reliable solution for surface sterilization
Strong germicidal efficiency (99.96%) in 8-10 minutes on 100 m².
The most suitable sterilization system for hotels and restaurants
Easy and fast application in all areas of the hotel.
High light intensity for short sterilization time.
No chemicals, no odors and no harmful ozone emissions.
Extremely long lamp life (30,000 hours, 4 times longer than the best conventional UVC lamps).
Low operating costs, low energy consumption
Minimum employee employment: During UVC sterilization, staff members can be assigned to other tasks
Easy application indoors and outdoors
Sterilization of surfaces for:
1: Remote controls and telephones
Placing remote controls, telephones, alarm clocks and other small objects touched by visitors in the direct path of the UVC light, they are sterilized from germs and viruses by 99.9%.
2: Curtains – Pillows – Bed Linen
It is not absolutely convenient for hotels to hot wash all the linens in the room – e.g. curtains, duvets, extra pillows, blankets, etc. – at every checkout. Sterilization of curtains and room linens such as extra beddings, duvets, etc. with UV technology offers customers extra safety, peace of mind, and a feeling of home, as they stay in a completely safe and sterile space.
3: Restaurants and food preparation areas
Maintaining kitchens, cupboards and food storage areas, knives, cutting boards, sinks, shelves and cookware bacteria-free is a never-ending battle. Cleaning with traditional methods such as soap, water and bleach can leave harmful bacteria behind.
One of the most revolutionary uses of ultraviolet light is the cleaning of kitchens and food preparation areas. Using UVC irradiation technology, you don't have to worry about inadequate cleaning or sick visitors, because bacteria can not develop resistance to UV light as they can with chemical cleaners.
4: Gyms – Spas
More and more hotels offer gyms and spa facilities to their guests. You may be surprised to learn that a study has found that fitness and spa equipment can have more than 1,000,000 germs per square inch.
The use of ultraviolet light to sterilize the space can stop the growth of harmful germs as well as unpleasant odors in many gyms that are not due to sweat, but are a result of bacteria.
5: Outdoor facilities
The use of UVC light for outdoor sterilization with effective germicidal action can stop the growth of harmful germs and viruses in outdoor restaurants, beach bars, pool areas, sunbeds, outdoor fitness equipment, childcare facilities, amphitheaters, etc.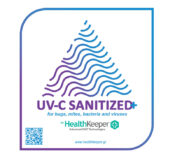 Your competitive advantage:
Hotel guests, partners and agencies will know from the start that you are using Best Practices to keep your customers safe and secure, with a special badge we provide to all hosting companies using UVC Advanced Technologies.