Temperature Control and Reporting Solution
Our proposal is an integrated solution to deal with the problems caused by virus contamination (including influenza).
The integrated solution starts with the use of our autonomous discreet control and reporting camera on a 24-hour basis.
Protection of any business – whether office, hotel, shop, restaurant, bank, school, or gym, etc . – starts at the entrance door.
The smart thermal camera is easy to install and operate. It detects and measures the body temperature of all persons entering through the front door and reports the results on the screen of a tablet, computer, or mobile phone.
The HealthKeeper Smart thermal camera has an intelligent software that generates visual and audible alerts for any suspicious case of influenza virus in the business.
The direct entrance monitoring by the hotel reception or store manager will give your business a competitive advantage in security and protection, both for employees and customers. All checks are recorded with date, time and photo, even when notifications escape your attention.
Easy installation on tablet or mobile phone (Android).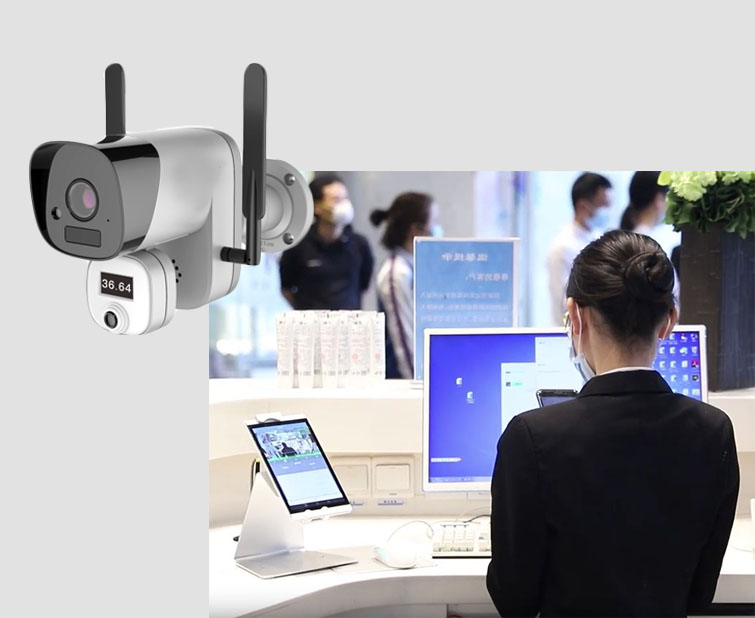 Your company's commitment to solutions with new technologies to combat influenza viruses will undoubtedly enhance the sense of security of your customers. Your customers feel safer and can enjoy a carefree and pleasant stay at your premises.
Your business – whether shop, restaurant, hotel, gym, or school – is rewarded with more reservations, better rates and increased traffic, ensuring its profitability.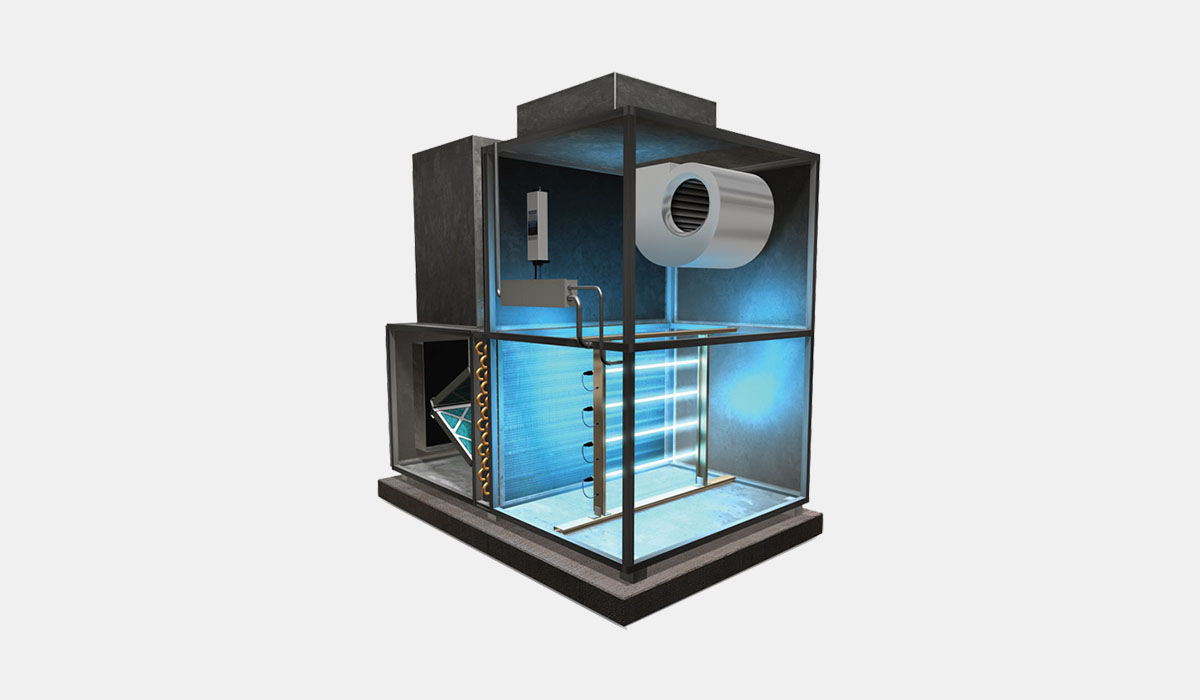 "Special UV cleaning equipment to be installed for the supply air or room air treatment is also effective as killing bacteria and viruses but this is normally only a suitable solution for the equipment for health care facilities."
Federation of European Heating, Ventilation and Air Conditioninf Associations (REHVA), COVID-19 guidance document, April 3, 2020
Air Purifier System for Air Condition 60W – PHILIPS
One thing of utmost importance for your customers and visitors, is the quality of the air that they and their family members breathe during their stay in your premises.
Using the new technology for air purification by installing a system with UVC emission lamps of suitable power in the central air conditioning/ventilation ducts, ensures clean air in the indoor spaces and leisure areas, as well as in rooms, clinics, and polyclinics: Your customers, visitors, and employees feel safer and can enjoy a carefree and pleasant stay at your premises.
Knowing that your business provides them with advanced UVC technology to ensure excellent air quality in areas such as hotel rooms, restaurants, bars, gyms, beauty salons, or policlinics will give them extra confidence and comfort. "Being safe and protected in your space, makes them feel at home."
Advantages of Air Purifier System for Air Condition 60W – PHILIPS :
The most suitable solution for central air conditioning / ventilation systems
Fresh, clean air, free from bacteria and germs
Cleaner filters and heat exchangers
Easy installation by our technicians
Customized to your needs – The perfect size for your equipment
Reliable technology already applied in hospitals, clinics, etc.
Professional service and spare part stocks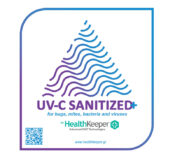 We will provide you with complete labeling to inform your customers upon entering that your premises have been sterilized with UVC technology, which neutralizes 99.9% of bacteria and viruses, in order to meet the obligation to inform customers about how their rooms and other living areas are sterilized.
HealthKeeper Sanitizer UVC – 1000W
A reliable solution to neutralize the influenza virus
Effective germicidal sterilization of large surfaces
The HealthKeeper 1000 w system with its unique activation method for 15 UVC lamps of 1000 W power is a reliable and complete sterilization solution producing an extremely powerful UVC beam that neutralizes 99.96% of bacteria and viruses in just 8 minutes.
It effectively sterilizes all surfaces in the room, neutralising germs and viruses. The light destroys all bacteria, viruses and germs.. Ideal for large areas up to 150 150 m2.
This is the most suitable solution for businesses with high traffic, such as hotels, restaurants, conference rooms, department stores, super markets, polyclinics, beauty centers, gyms, schools, and more.
The HealthKeeper 1000 w is the most appropriate sterilization equipment with effective germicidal action against influenza viruses, suitable for floors, benches, walls, decorations, furniture surfaces, fabric surfaces, curtains, upholstery, remote controls, headboards, linen (duvets, runners, covers, etc.), appliances (coffee makers, etc.) but also bathrooms.
Companies with high traffic facilities spend large sums of money every month purchasing antiseptic hygiene products and employing staff for conventional sterilization.
For any large company, transition to UVC technology will cost less on an annual basis than the amount currently spent on sterilization.
Major hotel chains all over the world are already using UVC technology for their sterilization protocols.
Ideal method of efficient and fast sterilization:
In room service of hotels, it can be used to sterilize floors, carpets, knobs, elevators, as well as furniture, chairs, tables, glass surfaces, etc.
In hotel and restaurant kitchens, it can be used to sterilize food preparation areas as well as tables and seats in the serving area.
In pool areas, spas and playgrounds, it is suitable for sterilization of massage tables, sunbeds, other pool bar surfaces, marbles, tiles, toys, etc.
It is already used for effective sterilization of rooms, restaurants, pool bars, and roof gardens by leading hotels worldwide (Hyatt, Marriott, etc.) and can be used effectively both indoors and outdoors.
List of successful applications:
A long list of institutions such as: Many hospitals, educational institutions, schools, institutes, beauty centers, gyms, government buildings, hotels, restaurants, aircraft, buses, already use this method of sterilization.
Some reference hotels using UVC technology for sterilization:
BEST WESTERN Hotels (USA)
MGM Grand (USA)
Marriot Westin (Houston, Texas, USA)
Marriot Zhuzhou Hotel (CN)
HYATT Regency Zhuzhou (CN)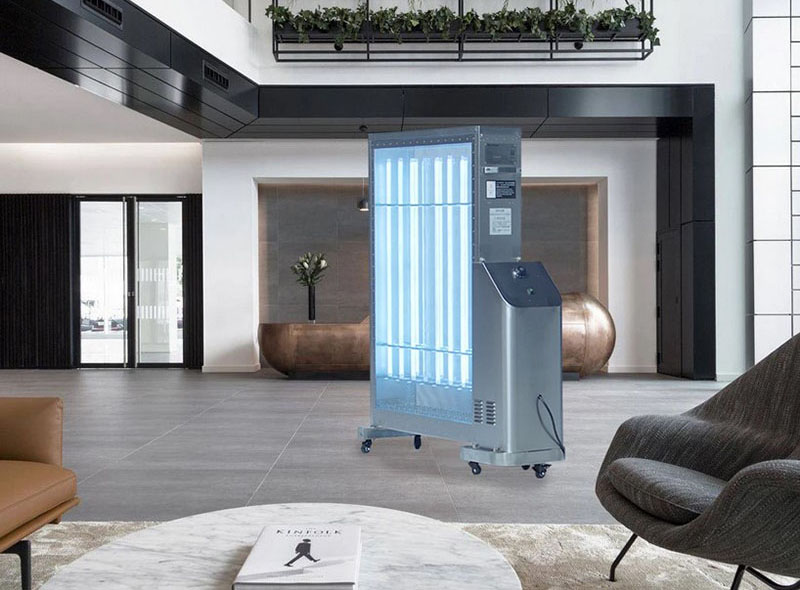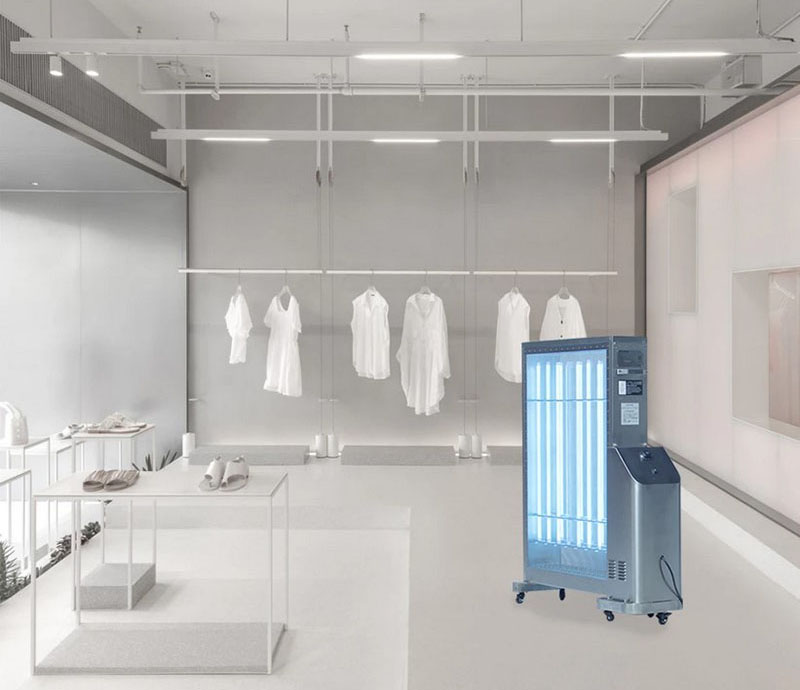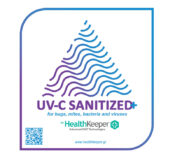 All companies that apply new sterilization technologies using UVC, enjoy the privilege to operate efficiently and provide comprehensive, high standard protection to their customers, guaranteeing the safety and quality of their services.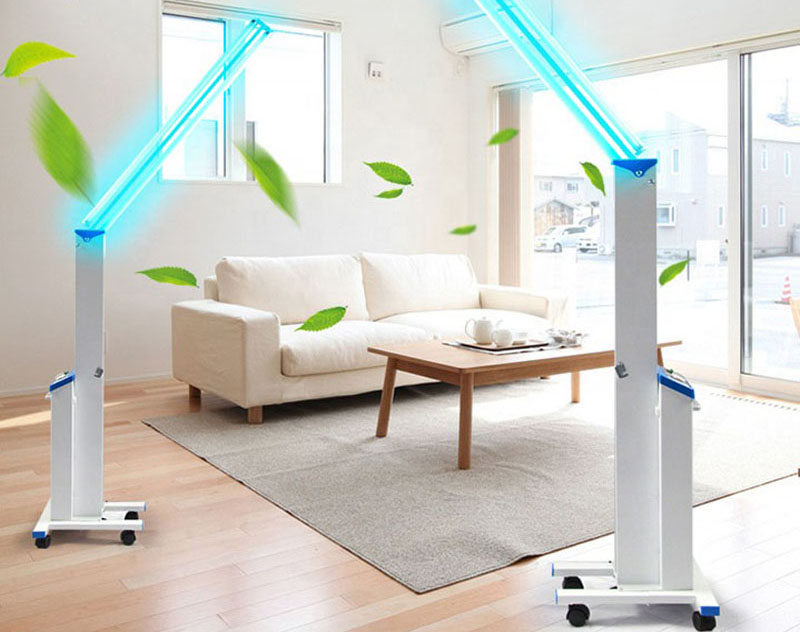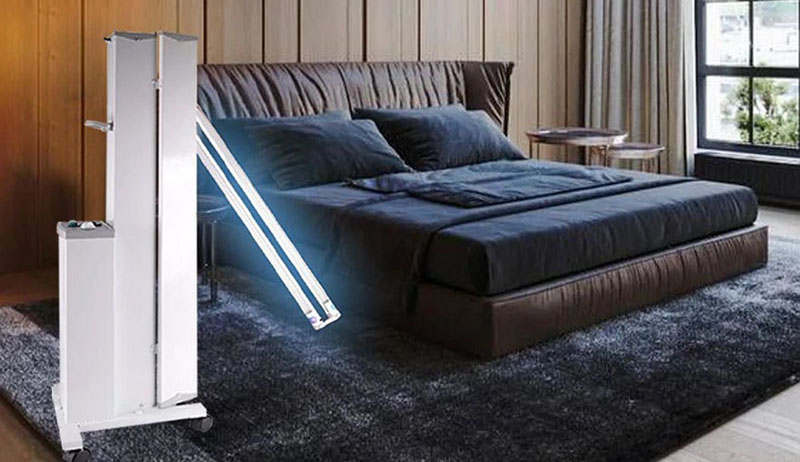 Sanitizer Trolley Healthkeeper 60W – 120W PHILIPS
The Sanitizer Trolley Healthkeeper 60W – 120W PHILIPS is a device with a new sterilization technology equipped with PHILIPS lamps from 60W up to 120 W, designed to neutralize 99.9% of bacteria and viruses in just 10-20 minutes in areas up to 20 m² and cabs of commercial vehicles.
Rapid sterilization with high germicidal effect, suitable for the neutralization of viruses and microbes including influenza viruses.
Indispensible solution for the sterilization of relatively small areas, such as shops, offices, meeting rooms, patios and courtyards up to 20 m² as well as for the neutralization of viruses and germs inside the cabins of professional vehicles..
The Sanitizer Trolley Healthkeeper 60W – 120W PHILIPSprovides high flexibility, thanks to its adjustable arms which can be used to focus on areas to be sterilized, and is the ideal solution for use:
In shops, for effective sterilization of e.g. clothes hangers and test rooms.
In parkings and car washes, as it is an appropriate germicidal solution to sterilize the interior of cars in just 10 minutes, neutralising 99.9% of bacteria and all viruses (including influenza viruses).
Used as one Sanitizer Trolley Healthkeeper 60W – PHILIPS unit, or a set of two Sanitizer Trolley Healthkeeper 120W – PHILIPS units for even more flexibility and speed, thus further reducing sterilization time..
The HealthKeeper UVC Sanitizer / 60W-120W PHILIPS is essential equipment perfectly suited for restaurants and bars for the sterilization of surfaces such as tables, chairs, indoor and outdoor floors.
Competitive advantage in business
Germicidal UVC Ultraviolet C irradiation, with a wavelength of 253-275 nm, is a well-known and documented method for sterilization from all known germs, such as viruses, bacteria, fungi, and influenza viruses.
Companies that use UVC technology benefit from the special labeling indicating the use of this technology as a method of sterilization, which informs customers about this highly effective method of sterilization and advertises its spaces as safe.
Your customers, visitors, and employees feel safer and can enjoy a carefree and pleasant stay at your premises.
High-tech UVC devices that work for you!
According to studies, recommendations and announcements of the Centers for Disease Control and Prevention (CDC) American Center for Disease Control and Prognosis, UVC radiation neutralizes influenza viruses.
HealthKeeper UVC 20 LED Bar
The foldable handheld UVC LED Rod has 20 powerful LED for fast and efficient sterilization in just one minute (59 seconds).
Small in size, portable, rechargeable with a USB port, and equipped with its own support base, it offers exceptional flexibility.
It can be used in any business and be made available to customers for use in all areas they visit within the business.
Ideal solution to enhance the customers' sense of safety during their stay and use of the company's facilities, e.g.:
In shops, for the sterilization of items for sale.
In cafés and restaurants, for the sterilization of serving utensils.
Also a perfect solution for gyms and spas.
Absolutely indicated for the sterilization of towels and sunbeds by the pool or in beach bars.
Along with the other protection measures taken by each company against the influenza virus, customers can make additional use of the portable HealthKeeper UVC 20 LED, sterilising within a minute the objects in the spaces they use and visit, such as sunbeds, towels, seats, tablecloths, cutlery, dishes, glasses, etc., in order to enhance the sense of safety for the items they will use.
In addition, the rechargeable HealthKeeper UVC 20 LED, has a support base and can be placed on serving tables in restaurants, in the presence of the customer, to precisely target the area to be sterilized, such as the area where glasses, dishes, cutlery and napkins are placed, in order to achieve rapid elimination of 99.9% of germs and viruses in just 1 minute.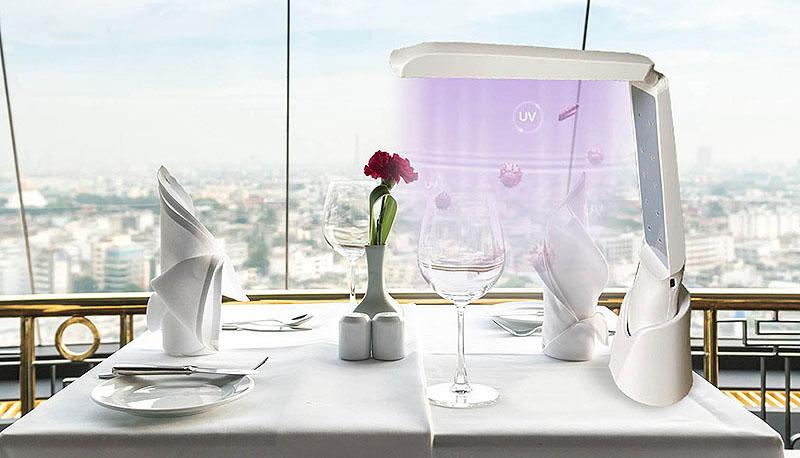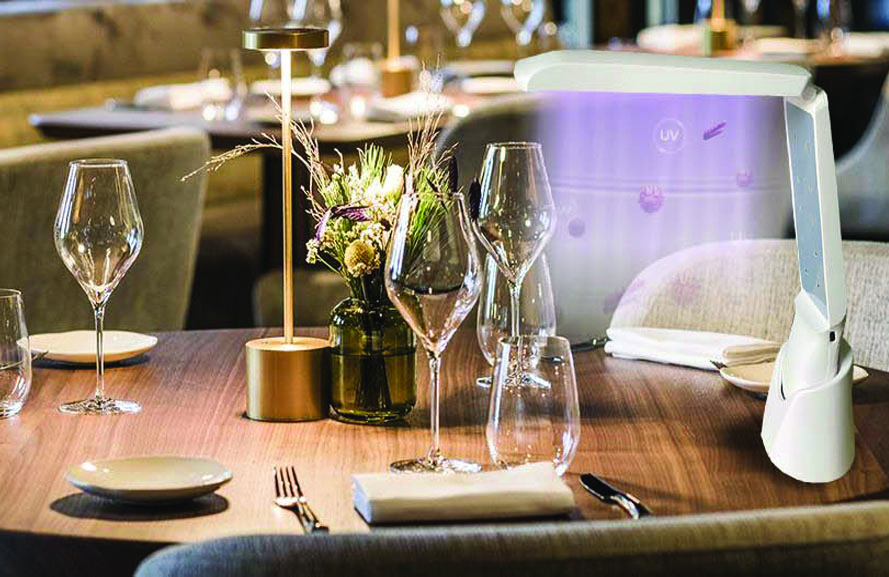 Space sterilization and customer temperature control robots
Features
Autonomous movement and recharging.
Discreet control and temperature measuring of customers and employees, with direct reporting to the reception.
Strong UVC radiation and 99.96% sterilization capacity
UVC Test standard GB 19258 2012
Use
Lobbies, hotel corridors, resorts with commercial infrastructures, clinics, polyclinics